2018 Cavalcade of Authors Featured Books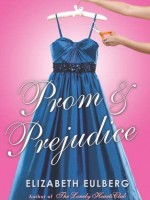 Prom and Prejudice
by Elizabeth Eulberg
After winter break, the girls at the very prestigious Longbourn Academy become obsessed with the prom. Lizzie Bennet, who attends Longbourn on a scholarship, isn't interested in designer dresses and expensive shoes, but her best friend, Jane, might be — especially now that Charles Bingley is back from a semester in London. Lizzie is happy about her friend's burgeoning romance but less than impressed by Charles's friend, Will Darcy, who's snobby and pretentious. Darcy doesn't seem to like Lizzie either, but she assumes it's because her family doesn't have money. Clearly, Will Darcy is a pompous jerk — so why does Lizzie find herself drawn to him anyway? (Ages 13+)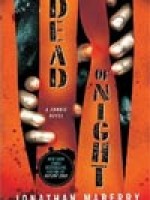 Dead of Night (Dead of Night, #1)
by Jonathan Maberry
A prison doctor injects a condemned serial killer with a formula designed to keep his consciousness awake while his body rots in the grave. But all drugs have unforeseen side-effects. Before he could be buried, the killer wakes up. Hungry. Infected. Contagious. This is the way the world ends. Not with a bang…but a bite. (Ages 16+)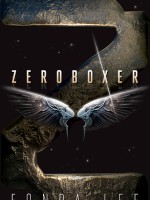 Zeroboxer
by Fonda Lee
A rising star in the weightless combat sport of zeroboxing, Carr "the Raptor" Luka dreams of winning the championship title. Recognizing his talent, the Zero Gravity Fighting Association assigns Risha, an ambitious and beautiful Martian colonist, to be his brandhelm––a personal marketing strategist. It isn't long before she's made Carr into a popular celebrity and stolen his heart along the way. As his fame grows, Carr becomes an inspirational hero on Earth, a once-great planet that's fallen into the shadow of its more prosperous colonies. But when Carr discovers a far-reaching criminal scheme, he becomes the keeper of a devastating secret. Not only will his choices put everything he cares about in jeopardy, but they may also spill the violence from the sports arena into the solar system. (Ages 13-18)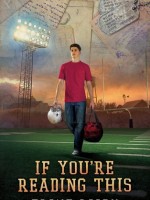 If You're Reading This
by Trent Reedy
Mike was seven when his father was killed in mysterious circumstances in Afghanistan. Eight years later, the family still hasn't recovered: Mike's mom is overworked and overprotective; his younger sister Mary feels no connection to the father she barely remembers; and in his quest to be "the man of the family," Mike knows he's missing out on everyday high school life. Then, out of the blue, he receives a letter from his father -- the first of a series Dad wrote in Afghanistan, just in case he didn't come home, meant to share some wisdom with his son on the eve of Mike's 16th birthday. As the letters come in, Mike revels in spending time with his dad again, and takes his encouragement to try new things But who has been keeping the letters all this time? How did his dad really die? As the answers are revealed, Mike and his family are finally able to find a way to heal and move forward. (Ages 11+)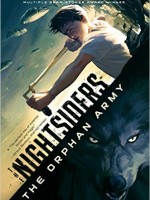 The Orphan Army (Nightsiders, #1)
by Jonathan Maberry
In a world filled with Bugs—monsters that ceaselessly ravage the Earth—Milo Silk has a hard time keeping his dreams separate from reality. So he keeps them locked up in his dream journal and hopes they'll never come to pass. But too often, they do—like when his father disappeared three years ago. Lately, the Witch of the World has been haunting his dreams, saying he is destined to be the hero who saves everyone. But all Milo can think about is how he fears the Bugs will attack his own camp, and bring something even more terrible than ever before. (Ages 10-13)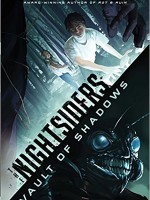 The Vault of Shadows (Nightsiders, #2)
by Jonathan Maberry
After joining forces with the magical Nightsiders and surviving a trip to the enemy Bugs' Hive ship, Milo Silk still has a lot to fear. The Huntsman has pledged a revenge worse than death on Milo, a group of nefarious fairies are bent on taking back Earth, and zombie-like holo-men are trapping humans for the Bugs to take. Even more unsettling is that the Witch of the World has disappeared and a mysterious boy is haunting Milo's dreams in her stead. But none of these threats compare to what may happen to the world if the humans and the Nightsiders don't unite to fight for each other. (Ages 10-13)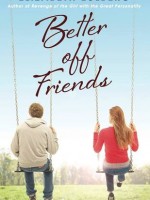 Better off Friends
by Elizabeth Eulberg
It all begins when seventh-grader Levi, a California native, moves to Wisconsin with hopes of fitting in with Midwestern "dudes" and maybe joining a sports team. Instead he finds Macallan, the pretty girl assigned to show him around school. After the two discover a common passion for British comedy, the camaraderie between them—and their families—is sealed. Macallan's sharp tongue and quick temper humorously complement Levi's mellowness, but their platonic friendship isn't always smooth sailing. As the years pass, petty arguments, traumas, and incidents of deceit test their loyalties, all of which are complicated by their mutual attraction. Neither wants to ruin a good thing by initiating romance, but jealousy rears its head as Levi and Macallan date other people. (Ages 12-18)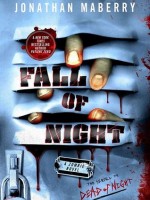 Fall of Night (Dead of Night, #2)
by Jonathan Maberry
Stebbins Little School is full of bodies. It's unthinkable to Desdemona Fox. Children are sobbing as panicked teachers and neighbors beat down their family members outside of the school...or the things that used to be their family members. Parents don't eat their children do they? (Ages 16+)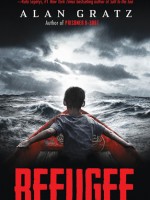 Refugee
by Alan Gratz
JOSEF is a Jewish boy living in 1930s Nazi Germany. With the threat of concentration camps looming, he and his family board a ship bound for the other side of the world. ISABEL is a Cuban girl in 1994. With riots and unrest plaguing her country, she and her family set out on a raft, hoping to find safety in America. MAHMOUD is a Syrian boy in 2015. With his homeland torn apart by violence and destruction, he and his family begin a long trek toward Europe. All three kids go on harrowing journeys in search of refuge. All will face unimaginable dangers -- from drownings to bombings to betrayals. But there is always the hope of tomorrow. And although Josef, Isabel, and Mahmoud are separated by continents and decades, shocking connections will tie their stories together in the end. (Ages 10-14)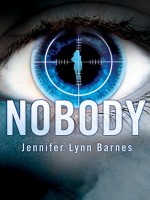 Nobody
by Jennifer Lynn Barnes
The most dangerous people in the world . . . are the ones you don't even see. Some people are Nobodies: ignored, unloved, practically invisible in every way. No one notices them. No one cares about them. They exist under the radar, forgotten as soon as you turn away. No one sees them coming. No one sees them leave. That's why Nobodies make the perfect assassins. (Ages 12+)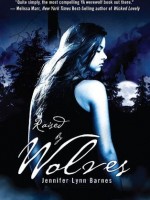 Raised by Wolves (Raised by Wolves #1)
by Jennifer Lynn Barnes
At the age of four, Bryn watched a rogue werewolf brutally murder her parents. Alone in the world, she was rescued and taken in by the mysterious Callum, the alpha of his werewolf pack. Now fifteen, Bryn's been raised as a human among werewolves, adhering to pack rule (mostly). Little fazes her. But the pack's been keeping a secret, and when Bryn goes exploring against Callum's direct orders, she finds Chase, a newly turned teen Were, locked in a cage. Terrifying memories of the attack on her mom and dad come flooding back. Bryn needs answers, and she needs Chase to get them. Suddenly, all allegiances to the pack no longer matter. It's Bryn and Chase against the werewolf world, whatever the consequences. ( Ages 12+)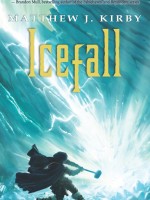 by Matthew J. Kirby
Trapped in a hidden fortress tucked between towering mountains and a frozen sea, Solveig, along with her brother the crown prince, their older sister, and an army of restless warriors, anxiously awaits news of her father's victory at battle. But as winter stretches on, and the unending ice refuses to break, terrible acts of treachery soon make it clear that a traitor lurks in their midst. Those charged with protecting the king's children are all suspect, and the siblings must choose their allies wisely. But who can be trusted so far from their father's watchful eye? (Ages 8-12)
Aristotle and Dante Discover the Secrets of the Universe
by Benjamin Alire Sáenz
Aristotle is an angry teen with a brother in prison. Dante is a know-it-all who has an unusual way of looking at the world. When the two meet at the swimming pool, they seem to have nothing in common. But as the loners start spending time together, they discover that they share a special friendship—the kind that changes lives and lasts a lifetime. And it is through this friendship that Ari and Dante will learn the most important truths about themselves and the kind of people they want to be. (Ages 13+)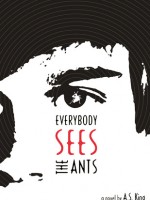 Everybody Sees the Ants
by A.S. King
Lucky Linderman didn't ask for his life. He didn't ask his grandfather not to come home from the Vietnam War. He didn't ask for a father who never got over it. He didn't ask for a mother who keeps pretending their dysfunctional family is fine. And he didn't ask to be the target of Nader McMillan's relentless bullying, which has finally gone too far. But Lucky has a secret—one that helps him wade through the mundane torture of his life. In his dreams, Lucky escapes to the war-ridden jungles of Laos—the prison his grandfather couldn't escape—where Lucky can be a real man, an adventurer, and a hero. (Ages 14+)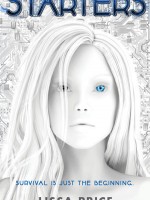 Starters (Starters, #1)
by Lissa Price
In a near-future Los Angeles, becoming someone else is now possible. Sixteen-year-old Callie discovers the Body Bank where teens, called Starters, rent their bodies to seniors, called Enders, who want to be young again. But when her neurochip malfunctions, she wakes up in the mansion of her rich renter and finds she is going out with a senator's grandson. But there's no time to enjoy her fairy-tale new life, because she must solve the mystery of her renter's deadly plan. (Ages 12+)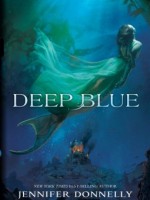 Deep Blue (Waterfire Saga #1)
by Jennifer Donnelly
When Serafina, a mermaid of the Mediterranean Sea, awakens on the morning of her betrothal, her biggest worry should be winning the love of handsome Prince Mahdi. And yet Sera finds herself haunted by strange dreams that foretell the return of an ancient evil. Her dark premonitions are confirmed when an assassin's arrow poisons Sera's mother. Now, Serafina must embark on a quest to find the assassin's master and prevent a war between the Mer nations. Led only by her shadowy dreams, Sera searches for five other mermaid heroines who are scattered across the six seas. Together, they will form an unbreakable bond of sisterhood and uncover a conspiracy that threatens their world's very existence. (Ages 12+)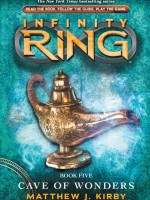 Cave of Wonders (Infinity Ring, #5)
by Matthew J. Kirby
Europe is in the grip of the Dark Ages, but there is a light in the dark: Baghdad. The great city has become a center of learning, populated by scholars, merchants, and explorers from all across the known world. But danger lurks in the desert... and Dak, Sera, and Riq must act fast to save the world's greatest library from utter destruction. (Ages 8-12)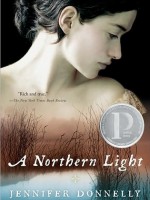 A Northern Light
by Jennifer Donnelly
Sixteen-year-old Mattie Gokey has a word for everything, and big dreams but little hope of seeing them come true. She collects words, stores them up as a way of fending off the hard truths of her life, the truths that she can't write down in stories. The fresh pain of her mother's death. The burden of raising her sisters while her father struggles over his brokeback farm. The mad welter of feelings Mattie has for handsome but dull Royal Loomis, who says he wants to marry her. And the secret dreams that keep her going—visions of finishing high school, going to college in New York City, becoming a writer. (Ages 14+)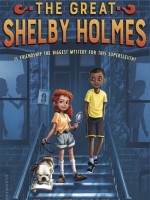 The Great Shelby Holmes (The Great Shelby Holmes #1)
by Elizabeth Eulberg
Shelby Holmes is not your average sixth grader. She's nine years old, barely four feet tall, and the best detective her Harlem neighborhood has ever seen—always using logic and a bit of pluck (which yes, some might call "bossiness") to solve the toughest crimes.
When eleven-year-old John Watson moves downstairs, Shelby finds something that's eluded her up till now: a friend. The easy-going John isn't sure of what to make of Shelby, but he soon finds himself her most-trusted (read: only) partner in a dog-napping case that'll take both their talents to crack. (Ages 8-12)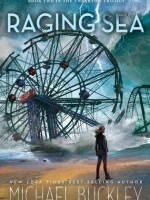 Raging Sea (Undertow #2)
by Michael Buckley
Most of south Brooklyn is in ruins and the nation is terrified. Nearly everyone that Lyric Walker loves is either missing or presumed dead, including the mesmerizing prince Fathom. It's up to Lyric to unite the Alpha before the second wave of a cataclysmic invasion wipes out mankind for good. (Ages 12-18)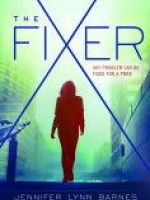 The Fixer (The Fixer #1)
by Jennifer Lynn Barnes
When sixteen-year-old Tess Kendrick is sent to stay with her older sister, she has no idea that the famed Ivy Kendrick is the capital's number one "fixer." For powerful people looking to make a scandal disappear, Ivy is there to help . . . for a price. No sooner does Tess enroll in the prestigious Hardwicke School than she unwittingly finds herself following in Ivy's footsteps. Tess never thought she and her sister had much in common, but when her new friends at school need help, she discovers that her talents quickly make her Hardwicke's go-to high-school fixer. (Ages 13+)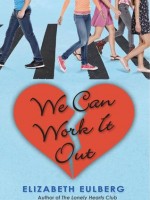 We Can Work It Out (The Lonely Hearts Club #2)
by Elizabeth Eulberg
When Penny Lane started The Lonely Hearts Club, the goal was simple: to show that girls didn't need to define themselves by how guys looked at them, and didn't have to value boyfriends over everything else. Penny thought she'd be an outcast for life . . . but then the club became far more popular than she ever imagined it would be. But what happens when the girl who never thought she'd date a good guy suddenly finds herself dating a great one? She doesn't need a boyfriend . . . but she wants it to work out with this particular boyfriend. And he wants it to work out with her. Only, things keep getting in the way. Feelings keep getting hurt. Words keep getting misunderstood. Penny Lane worked hard to declare her independence. Now she needs to figure out what to do with it -- and how to balance what she wants with what everyone else wants. (Ages 12-18)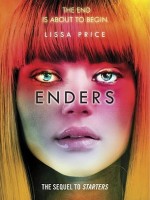 Enders (Starters, #2)
by Lissa Price
With the body bank destroyed, Callie no longer has to rent herself out to creepy Enders—but they can still get inside her mind and make her do things she doesn't want to do. Having the chip removed could save her life—but it could also silence the voice in her head that may belong to her father. Callie still has flashes of her ex-renter Helena's memories. Who is real and who is masquerading in a teen body? No one is ever who they appear to be. Grasping at the hope of a normal life for herself and her kid brother, Callie is ready to fight for the truth. Even if it kills her. (Ages 12+)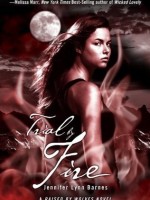 Trial by Fire (Raised by Wolves, #2)
by Jennifer Lynn Barnes
Bryn is finally settling into her position as alpha of the Cedar Ridge Pack—or at least, her own version of what it means to be alpha when you're a human leading a band of werewolves. Then she finds a teenage boy bleeding on her front porch. Before collapsing, he tells her his name is Lucas, he's a Were, and Bryn's protection is his only hope. But Lucas isn't part of Bryn's pack, and she has no right to claim another alpha's Were. With threats—old and new—looming, and danger closing in from all sides, Bryn will have to accept what her guardian Callum knew all along. To be alpha, she will have to give in to her own animal instincts and become less human. And, she's going to have to do it alone. (Ages 12+)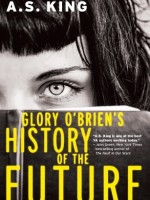 Glory O'Brien's History of the Future
by A.S. King
Graduating from high school is a time of limitless possibilities--but not for Glory, who has no plan for what's next. Her mother committed suicide when Glory was only four years old, and she's never stopped wondering if she will eventually go the same way...until a transformative night when she begins to experience an astonishing new power to see a person's infinite past and future. From ancient ancestors to many generations forward, Glory is bombarded with visions--and what she sees ahead of her is terrifying. (Ages 14+)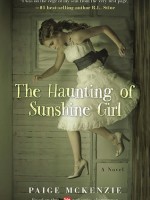 The Haunting of Sunshine Girl (The Haunting of Sunshine Girl, #1)
by Paige McKenzie
Shortly after her sixteenth birthday, Sunshine Griffith and her mother Kat move from sunny Austin, Texas, to the rain-drenched town of Ridgemont, Washington. Though Sunshine is adopted, she and her mother have always been close, sharing a special bond filled with laughter and inside jokes. But from the moment they arrive, Sunshine feels her world darken with an eeriness she cannot place. And even if Kat doesn't recognize it, Sunshine knows that something about their new house is just ... creepy. (Ages 12+)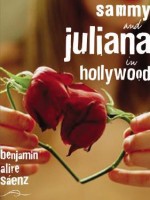 Sammy and Juliana in Hollywood
by Benjamin Alire Sáenz
It is 1969, America is at war, "Hollywood" is a dirt-poor Chicano barrio in small-town America, and Sammy and Juliana face a world of racism, war in Vietnam, and barrio violence. Sammy and Juliana in Hollywood is a Young Adult Library Services Association Top 10 Best Book for Young Adults and a finalist for the Los Angeles Times Book Award for Young Adults. (Ages 14+)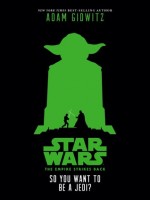 Star Wars: The Empire Strikes Back
So You Want to Be a Jedi?
by Adam Gidwitz
I get it, it seems cool. You can move things with your mind. Control people with your thoughts. Oh, and the lightsabers. Yeah, those are awesome. But listen, it's not all mind control and weaponized flashlights. Being a Jedi requires patience, strength and self-awareness. And training. Lots of training.
Tell you what. I'm going to tell you a story. Not just a story. The story. The story of one of the greatest Jedi ever. As I tell it, I'm going to give you some tests to see if you've got what it takes. If you're afraid, I don't blame you. Most folks don't have what it takes. Most folks are just ordinary. Which is okay. There is nothing wrong with ordinary. But if you're ordinary, you can't be a Jedi. (Ages 8-12)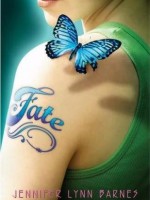 Fate (Tattoo, #2)
by Jennifer Lynn Barnes
For the past two years, Bailey Morgan has lived a double life: high school student by day, ancient mystical being by night. As the third Fate, Bailey literally controls the fate of the world, but as Plain Old Bailey, her life is falling apart. She's got a tattoo that was supposed to be temporary (but isn't), friendships that were supposed to last forever (but might not), and no idea what her future holds after high school graduation. Then Bailey meets the rest of the Sidhe, an ancient race defined by their power, beauty, and a sinister habit of getting what they want at any cost. Before Bailey knows it, she's being drawn into an otherworldly web more complicated than anything she weaves as a mortal Fate. (Ages 12+)
Fantasy Baseball
by Alan Gratz
Alex Metcalf must be dreaming. What else would explain why he's playing baseball for the Oz Cyclones, with Dorothy as his captain, in the Ever After Baseball Tournament? But Alex isn't dreaming, this is real, and winning the tournament might be his only chance to get back home because the champions get a wish granted by the Wizard. Too bad Ever After's most notorious criminal, the Big Bad Wolf, is also after the wishes. And anyone who gets in his way gets eaten! (Ages 8-12)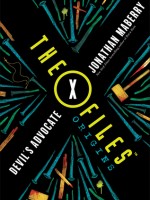 Devils Advocate (The X-Files Origins, #2)
by Jonathan Maberry
How did Fox Mulder become a believer? How did Dana Scully become a skeptic? The X-Files Origins has the answers in this young adult origin story. The X-Files Origins: Devil's Advocate will explore the teen years of Dana Scully, the beloved character depicted in the cult-favorite TV show The X-Files. Her story is set in the spring of 1979, when serial murder, the occult, and government conspiracy were highlighted in the news. The book will follow Scully as she experiences life-changing events that set her on the path to becoming an FBI agent. (Ages 14+)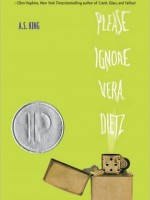 Please Ignore Vera Dietz
by A.S. King
Vera's spent her whole life secretly in love with her best friend, Charlie Kahn. And over the years she's kept a lot of his secrets. Even after he betrayed her. Even after he ruined everything. So when Charlie dies in dark circumstances, Vera knows a lot more than anyone—the kids at school, his family, even the police. But will she emerge to clear his name? Does she even want to? (Ages 14+)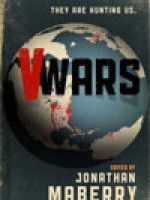 Crimson Queen (V Wars, #1)
by Jonathan Maberry
V-WARS! These all-new tales chronicling the early days of the Vampire Wars offers the first salvo in the battle between humans and hundreds of new species of vampires! No matter how it ends, the world is going to bleed. (Ages 16+)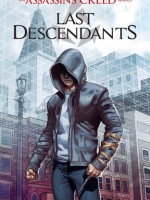 Last Descendants (Assasin's Creed: Last Descendants, #1)
by Matthew J. Kirby
Nothing in Owen's life has been right since his father died in prison, accused of a crime Owen is certain he didn't commit. Monroe, the IT guy at school, might finally bring Owen the means to clear his father's name by letting him use an Animus--a device that lets users explore genetic memories buried within their own DNA. During a simulation, Owen uncovers the existence of a powerful relic long considered a legend: the Trident of Eden. Now two secret organizations will stop at nothing to take possession of this artifact: the Brotherhood of Assassins and the Templar Order. It becomes clear to Owen, that the only way to save himself, is to find the Trident first. (Age 12+)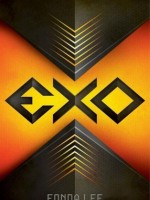 Exo
by Fonda Lee
It's been a century of peace since Earth became a colony of an alien race with far reaches into the galaxy. Some die-hard extremists still oppose their rule on Earth, but Donovan Reyes isn't one of them. His dad holds the prestigious position of Prime Liaison in the collaborationist government, and Donovan's high social standing along with his exocel (a remarkable alien technology fused to his body) guarantee him a bright future in the security forces. That is, until a routine patrol goes awry and Donovan's abducted by the human revolutionary group Sapience. When Sapience realizes who Donovan's father is, they think they've found the ultimate bargaining chip. But the Prime Liaison doesn't negotiate with terrorists, not even for his own son. Left in the hands of terrorists who have more uses for him dead than alive, the fate of Earth rests on Donovan's survival. Because if Sapience kills him, it could spark another intergalactic war. And Earth didn't win the last one... (Ages 12-18)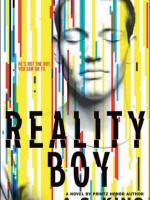 Reality Boy
by A.S. King
Gerald Faust started feeling angry even before his mother invited a reality TV crew into his five-year-old life. Twelve years later, he's still haunted by his rage-filled youth—which the entire world got to watch from every imaginable angle—and his anger issues have resulted in violent outbursts, zero friends, and clueless adults dumping him in the special education room at school. No one cares that Gerald has tried to learn to control himself; they're all just waiting for him to snap. And he's starting to feel dangerously close to doing just that...until he chooses to create possibilities for himself that he never knew he deserved. (Ages 15+)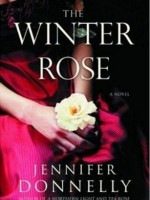 The Winter Rose (The Tea Rose #2)
by Jennifer Donnelly
It has been twelve years since a dark, murderous figure stalked the alleys and courts of Whitechapel. And yet, in the summer of 1900, East London is still poor, still brutal, still a shadow city to its western twin. Among the reformers is an idealistic young woman named India Selwyn-Jones, recently graduated from medical school. With the help of her influential fiancé—Freddie Lytton, an up-and-coming Liberal MP—she works to shut down the area's opium dens that destroy both body and soul. Her selfless activities better her patients' lives and bring her immense gratification, but unfortunately, they also bring her into direct conflict with East London's ruling crime lord—Sid Malone. (Ages 14+)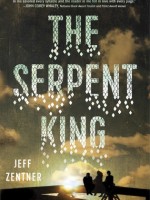 The Serpent King
by Jeff Zentner
Dill isn't the most popular kid at his rural Tennessee high school. After his father fell from grace in a public scandal that reverberated throughout their small town, Dill became a target. Fortunately, his two fellow misfits and best friends, Travis and Lydia, have his back.
But as they begin their senior year, Dill feels the coils of his future tightening around him. His only escapes are music and his secret feelings for Lydia—neither of which he is brave enough to share. Graduation feels more like an ending to Dill than a beginning. But even before then, he must cope with another ending—one that will rock his life to the core. (Ages 14+)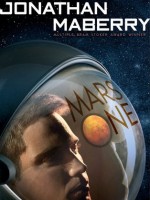 Mars One
by Jonathan Maberry
Tristan has known that he and his family were going to be on the first mission to colonize Mars since he was twelve years old, and he has been training ever since. However, knowing that he would be leaving for Mars with no plan to return didn't stop him from falling in love with Izzy. But now, at sixteen, it's time to leave Earth, and he's forced to face what he must leave behind in exchange for an uncertain future. When the news hits that another ship is already headed to colonize Mars, and the NeoLuddite terrorist group begins threatening the Mars One project, the mission's purpose is called into question. Is this all worth it? (Ages 12+)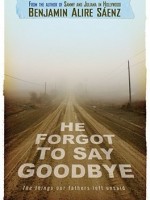 He Forgot to Say Goodbye
by Benjamin Alire Sáenz
On the surface, Ramiro Lopez and Jake Upthegrove couldn't live more different lives. Ram is Mexican-American, lives in the poor section of town, and is doing his best to keep his mother sane while his brother fights off a drug-induced coma. Jake is a WASP who drives a nice car, lives in a mansion, and has a mother who drinks a bit too much and a step-father who cheats on her. But there is one point, one issue, where their lives are exactly the same; their fathers walked out on them when they were just young boys. And at this convergence, Ram and Jake see how everything in their lives is just a little bit similar. (Ages 12+)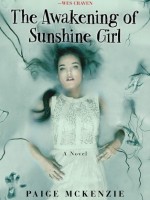 The Awakening of Sunshine Girl (The Haunting of Sunshine Girl, #2)
by Paige McKenzie
Sunshine Griffith has been awakened. Her powers are now fully alive and spirits follow her everywhere, desperate for help moving on to the afterlife. Hoping to get her luiseach abilities under control, she agrees to begin training with her mentor—her birth father, Aidan. Aidan takes her to an abandoned campus deep in the Mexican jungle, far from her would-be boyfriend and protector, Nolan. But Aidan's work turns out to be more terrifying than Sunshine could have imagined. Is she prepared to finally learn the truth about what's threatening the future of the luiseach and the human race…and the deadly part she may play in it? (Ages 12+)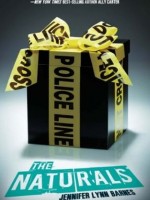 The Naturals (The Naturals #1)
by Jennifer Lynn Barnes
Seventeen-year-old Cassie is a natural at reading people. Piecing together the tiniest details, she can tell you who you are and what you want. But, it's not a skill that she's ever taken seriously. That is, until the FBI come knocking: they've begun a classified program that uses exceptional teenagers to crack infamous cold cases, and they need Cassie. What Cassie doesn't realize is that there's more at risk than a few unsolved homicides-especially when she's sent to live with a group of teens whose gifts are as unusual as her own. Soon, it becomes clear that no one in the Naturals program is what they seem. And when a new killer strikes, danger looms close. (Ages 12+)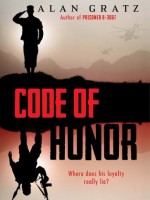 Code of Honor
by Alan Gratz
Kamran Smith has it all. He's the star of the football team, dates the most popular girl in school, and can't wait to enlist in the Army like his big brother, Darius. Although Kamran's family hails from Iran, Kamran has always felt 100% American. Accepted. Darius is accused of being a terrorist. Kamran refuses to believe it, but the evidence is there -- Darius has been filmed making threats against his country, hinting at an upcoming deadly attack. Kamran's friends turn on him -- suddenly, in their eyes, he's a terrorist, too. Kamran knows it's up to him to clear his brother's name. In a race against time, Kamran must piece together a series of clues and codes that will lead him to Darius -- and the truth. (Ages 12+)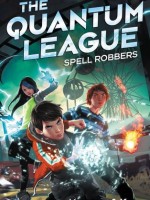 Spell Robbers (The Quantum League, #1)
by Matthew J. Kirby
After Ben Warner is recruited to join a "science camp" led by the eccentric quantum physicist Dr. Madeleine Hughes, he quickly realizes it's no regular science camp. Along with his new friend, Peter, Ben discovers the secret, powerful art of Actuation -- the ability to change reality by simply imagining it differently. Then Dr. Hughes is abducted and her equipment stolen. Ben and Peter are suddenly caught in a turf war between dangerous actuators desperate for Dr. Hughes's technology. Will their combined powers be enough to save Dr. Hughes and vanquish their enemies? (Ages 8-12)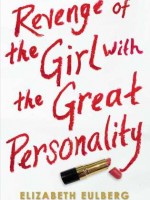 Revenge of the Girl with the Great Personality
by Elizabeth Eulberg
Emme, Sophie, Ethan, and Carter are seniors at a performing arts school, getting ready for their Senior Showcase recital, where the pressure is on to appeal to colleges, dance academies, and professionals in show business. For Sophie, a singer, it's been great to be friends with Emme, who composes songs for her, and to date Carter, soap opera heartthrob who gets plenty of press coverage. Emme and Ethan have been in a band together through all four years of school, but wonder if they could be more than just friends and bandmates. Carter has been acting since he was a baby, and isn't sure how to admit that he'd rather paint than perform. The Senior Showcase is going to make or break each of the four, in a funny, touching, spectacular finale. (Ages 12-18)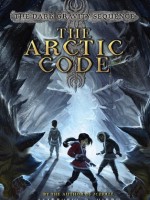 The Arctic Code (Dark Gravity, #1)
by Matthew J. Kirby
It's the near future and the earth has entered a new ice age. Eleanor Perry lives in Tucson, one of the most popular destinations for refugees of the Freeze. She is the daughter of a climatologist who is trying to find new ways to preserve human life on the planet. Dr. Perry believes that a series of oil deposits she has found in the Arctic may hold the key to our survival. That's when she disappears—but not before sending Eleanor a series of cryptic messages that point to a significant and mysterious discovery. Now it's up to Eleanor to go find her mom, which will launch her on a breathless race to unlock the mysteries of what has happened to our planet, solving the riddle of the cold that could be humanity's end—and uncovering a threat to the earth that may not be of this world. (Ages 8-12)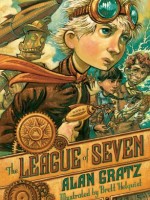 The League of Seven (The League of Seven #1)
by Alan Gratz
In an alternate 1875 America electricity is forbidden, Native Americans and Yankees are united, and eldritch evil lurks in the shadows. Young Archie Dent knows there really are monsters in the world. His parents are members of the Septemberist Society, whose job it is to protect humanity from hideous giants called the Mangleborn. Trapped in underground prisons for a thousand years, the giant monsters have been all but forgotten—but now they are rising again as the steam-driven America of 1875 rediscovers electricity, the lifeblood of the Mangleborn. When his parents and the rest of the Septemberists are brainwashed by one of the evil creatures, Archie must assemble a team of seven young heroes to save the world. (Ages 10-14)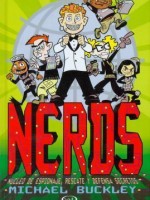 NERDS:National Espionage, Rescue, and Defense Society (NERDS #1)
by Michael Buckley
Jackson Jones, a cool kid at Nathan Hale Elementary School, suddenly finds himself ostracized when he's saddled with 14 pounds of highly magnetic orthodonture ("Friends turned their backs when he walked by. Teachers cowered in the lounge, hoping to avoid eye contact"). With no social activities to occupy his time, he starts snooping around school and uncovers its secret: it's the undercover hideout of NERDS, a secret group of underage spies. Even more shocking, the NERDS are the biggest outcasts in the entire school, their allergies and eccentricities turned into assets. (Ages 8-12)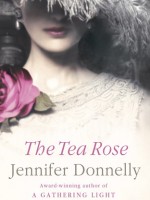 The Tea Rose (The Tea Rose #1)
by Jennifer Donnelly
Fiona Finnegan hopes to own her own tea shop someday with the love of her life, Joe Bristow. But Fiona's dreams are shattered when the actions of a dark and brutal man take her from nearly everything and everyone she holds dear. Fearing her own death at the dark man's hands, she is forced to flee London for New York. There, her indomitable spirit, and the ghosts of her past, propel her to rise from a modest west side shopfront to the top of Manhattan's tea trade. (Ages 14+)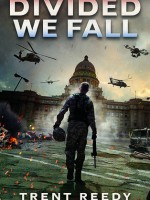 Divided We Fall (Divided We Fall, #1)
by Trent Reedy
Danny Wright never thought he'd be the man to bring down the United States of America. In fact, he enlisted in the Idaho National Guard because he wanted to serve his country the way his father did. When the Guard is called up on the governor's orders to police a protest in Boise, it seems like a routine crowd-control mission ... but then Danny's gun misfires, spooking the other soldiers and the already fractious crowd, and by the time the smoke clears, twelve people are dead. The president wants the soldiers arrested. The governor swears to protect them. And as tensions build on both sides, the conflict slowly escalates toward the unthinkable: a second American civil war. (Ages 13+)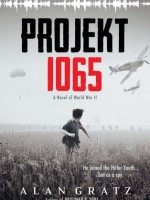 Projekt 1065
by Alan Gratz
Infiltrate. Befriend. Sabotage. World War II is raging. Michael O'Shaunessey, originally from Ireland, now lives in Nazi Germany with his parents. Like the other boys in his school, Michael is a member of the Hitler Youth. But Michael has a secret. He and his parents are spies. Michael despises everything the Nazis stand for. But he joins in the Hitler Youth's horrific games and book burnings, playing the part so he can gain insider knowledge. When Michael learns about Projekt 1065, a secret Nazi war mission, things get even more complicated. He must prove his loyalty to the Hitler Youth at all costs -- even if it means risking everything he cares about. Including... his own life. (Ages 9-14)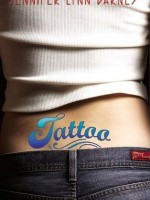 Tattoo (Tattoo, #1)
by Jennifer Lynn Barnes
Bailey Morgan isn't the type of girl who shows a lot of skin, but somehow, she ends up in a dressing room at the mall with her friend Delia applying a temporary tattoo to her lower back. Never one to suffer fashion doubt, trendsetter Delia knows exactly where she wants her own tattoo: on her stomach, right where her shirt ends—can you say "midriff"? Annabelle, the quiet one, chooses the back of her neck, and tomboy Zo plasters hers on the top of her foot. The tattoos will last for three days, and Delia's sure that with them, the four friends will absolutely kill at the school dance. Unfortunately, killing is exactly what someone has in mind. (Ages 12+)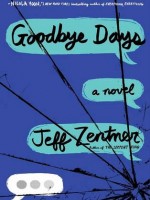 Goodbye Days
by Jeff Zentner
"I may have killed my three best friends," 17-year-old Carver agonizes. How so? He sent a text to his friend Mars, knowing the boy was driving at the time; distracted by replying to the text, Mars crashed into a stopped truck, killing himself and Carver's two other best friends, Blake and Eli. Now Mars' father, a judge, has called on the district attorney to open an investigation and weigh charges of criminally negligent homicide against Carver. Bereft and virtually friendless, riddled by guilt, and overwhelmed by stress, Carver begins having panic attacks, which send him into therapy. Interestingly, he makes an unlikely new friend in Eli's girlfriend, Jesmyn, but when he tells her that he desires more than friendship with her, she rejects him. Meanwhile, Carver's attempts at atonement with Blake's grandmother, Eli's parents, and Mars' father meet with mixed success, feeding his subconscious desire for punishment. (Ages 14+)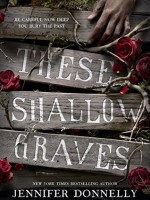 These Shallow Graves
by Jennifer Donnelly
When Jo Montfort's father dies under circumstances on Jo finds mysterious, she partners with Eddie—an infuriatingly handsome reporter at her father's newspaper—to find answers. It soon becomes all too clear how much she stands to lose if she keeps searching for the truth, but it may be too late to stop. The past never stays buried forever. Life is dirtier than it seems, and the truth is the dirtiest part of it all. (Ages 14+)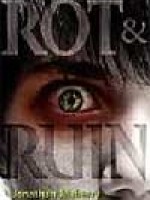 Rot & Ruin (Rot & Ruin, #1)
by Jonathan Maberry
In the zombie-infested, post-apocalyptic America where Benny Imura lives, every teenager must find a job by the time they turn fifteen or get their rations cut in half. Benny doesn't want to apprentice as a zombie hunter with his boring older brother Tom, but he has no choice. He expects a tedious job whacking zoms for cash, but what he gets is a vocation that will teach him what it means to be human. (Ages 12+)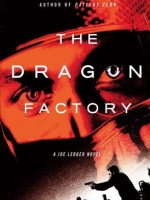 The Dragon Factory (Joe Ledger, #2)
by Jonathan Maberry
Joe Ledger and the DMS (Department of Military Sciences) go up against two competing groups of geneticists. One side is creating exotic transgenic monsters and genetically enhanced mercenary armies; the other is using 21st century technology to continue the Nazi Master Race program begun by Josef Mengele. Both sides want to see the DMS destroyed, and they've drawn first blood. Neither side is prepared for Joe Ledger as he leads Echo Team to war under a black flag. (Ages 16+)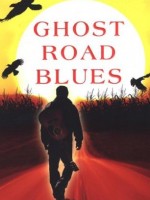 Ghost Road Blues (Pine Deep trilogy, #1)
by Jonathan Maberry
Thirty years ago, a blues musician called the Bone Man killed the devil at the crossroads, only to be beaten and hung like a scarecrow in a cornfield—or so the story goes. Today, the people of Pine Deep celebrate their town's grisly past by luring tourists to the famous haunted hayride, full of chills and scares. But this year, "The Spookiest Town in America" will learn the true meaning of fear. Its residents will see the real face of evil lurking behind the masks of ordinary people. They will feel it in their hearts, in their bones, in their nightmares. Because evil never dies, it only grows stronger. (Ages 16+)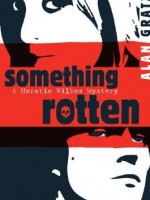 Something Rotten (Horatio Wilkes Mysteries #1)
by Alan Gratz
Denmark, Tennessee, stinks. The smell hits Horatio Wilkes the moment he pulls into town to visit his best friend, Hamilton Prince. And it's not just the paper plant and the polluted river that's stinking up Denmark: Hamilton's father has been poisoned and the killer is still at large. Why? Because nobody believes that Rex Prince was murdered. Nobody except Horatio and Hamilton. Now they need to find the killer, but it won't be easy. It seems like everyone in Denmark is a suspect. Motive? Means? Opportunity? They all have them. But who among them has committed murder most foul? (Ages 13+)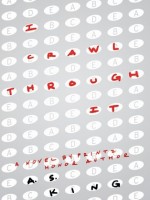 I Crawl Through It
by A.S. King
Four teenagers are on the verge of exploding. The anxieties they face at every turn have nearly pushed them to the point of surrender: senseless high-stakes testing, the lingering damage of past trauma, the buried grief and guilt of tragic loss. They are desperate to cope, but no one is listening. So they will lie. They will split in two. They will turn inside out. They will even build an invisible helicopter to fly themselves far away...but nothing releases the pressure. Because, as they discover, the only way to truly escape their world is to fly right into it. (Ages 15 +)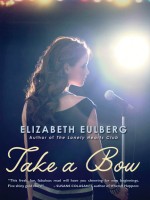 Take a Bow
by Elizabeth Eulberg
Emme, Sophie, Ethan, and Carter are seniors at a performing arts school, getting ready for their Senior Showcase recital, where the pressure is on to appeal to colleges, dance academies, and professionals in show business. For Sophie, a singer, it's been great to be friends with Emme, who composes songs for her, and to date Carter, soap opera heartthrob who gets plenty of press coverage. Emme and Ethan have been in a band together through all four years of school, but wonder if they could be more than just friends and bandmates. Carter has been acting since he was a baby, and isn't sure how to admit that he'd rather paint than perform. The Senior Showcase is going to make or break each of the four, in a funny, touching, spectacular finale. (Ages 12-18)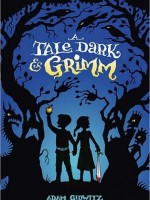 A Tale of Dark & Grimm (A Tale of Dark & Grimm #1)
by Adam Gidwitz
Hansel and Gretel walk out of their own story and into eight other classic Grimm (and Grimm-inspired) fairy tales. An irreverent, witty narrator leads us through encounters with witches, warlocks, dragons, and the devil himself. As the siblings roam a forest brimming with menacing foes, they learn the true story behind the famous tales, as well as how to take charge of their destinies and create their own happily ever after. Because once upon a time, fairy tales were awesome. (Ages 10-14)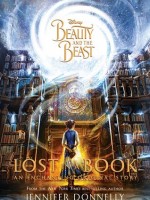 Beauty and the Beast: Lost in a Book
by Jennifer Donnelly
Smart, bookish Belle, a captive in the Beast's castle, has become accustomed to her new home and has befriended its inhabitants. When she comes upon Nevermore, an enchanted book unlike anything else she has seen in the castle, Belle finds herself pulled into its pages and transported to a world of glamour and intrigue. The adventures Belle has always imagined, the dreams she was forced to give up when she became a prisoner, seem within reach again. (Ages 10-14)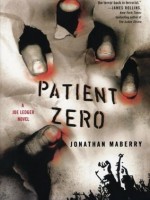 Patient Zero (Joe Ledger, #1)
by Jonathan Maberry
When you have to kill the same terrorist twice in one week there's either something wrong with your world or something wrong with your skills... and there's nothing wrong with Joe Ledger's skills. And that's both a good, and a bad thing. It's good because he's a Baltimore detective that has just been secretly recruited by the government to lead a new taskforce created to deal with the problems that Homeland Security can't handle. It's bad because his first mission is to help stop a group of terrorists from releasing a dreadful bio-weapon that can turn ordinary people into zombies. The fate of the world hangs in the balance… (Ages 16+)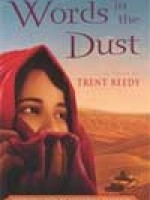 Words in the Dust
by Trent Reedy
Zulaikha hopes. She hopes for peace, now that the Taliban have been driven from Afghanistan; a good relationship with her hard stepmother; and one day even to go to school, or to have her cleft palate fixed. Zulaikha knows all will be provided for her--"Inshallah," God willing. Then she meets Meena, who offers to teach her the Afghan poetry she taught her late mother. And the Americans come to her village, promising not just new opportunities and dangers, but surgery to fix her face. These changes could mean a whole new life for Zulaikha--but can she dare to hope they'll come true? (Ages 10-14)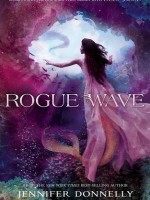 Rogue Wave (Waterfire Saga #2)
by Jennifer Donnelly
Serafina, Neela, Ling, Ava, Becca, and Astrid, six mermaids from realms scattered throughout the seas and freshwaters, were summoned by the leader of the river witches to learn an incredible truth: the mermaids are direct descendants of the Six Who Ruled-powerful mages who once governed the lost empire of Atlantis. The ancient evil that destroyed Atlantis is stirring again, and only the mermaids can defeat it. To do so, they need to find magical talismans that belonged to the Six. (Ages 12+)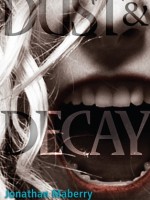 Dust & Decay (Rot & Ruin, #2)
by Jonathan Maberry
Six months have passed since the terrifying battle with Charlie Pink-eye and the Motor City Hammer in the zombie-infested mountains of the Rot & Ruin. It's also been six months since Benny Imura and Nix Riley saw something in the air that changed their lives. Now, after months of rigorous training with Benny's zombie-hunter brother Tom, Benny and Nix are ready to leave their home forever and search for a better future. Lilah the Lost Girl and Benny's best friend Lou Chong are going with them. But in the great Rot & Ruin, everything wants to kill you, and not everyone in Benny's small band of travelers will survive. (Ages 12+)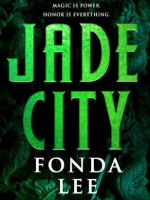 Jade City
by Fonda Lee
Magical jade -- mined, traded, stolen, and killed for -- is the lifeblood of the island of Kekon. For centuries, honorable Green Bone warriors like the Kaul family have used it to enhance their abilities and defend the island from foreign invasion. Now, the war is over and a new generation of Kauls vies for control of Kekon's bustling capital city. They care about nothing but protecting their own, cornering the jade market, and defending the districts under their protection. Ancient tradition has little place in this rapidly changing nation. When a powerful new drug emerges that lets anyone -- even foreigners -- wield jade, the simmering tension between the Kauls and the rival Ayt family erupts into open violence. The outcome of this clan war will determine the fate of all Green Bones -- from their grandest patriarch to the lowliest motorcycle runner on the streets -- and of Kekon itself. (Ages 16+)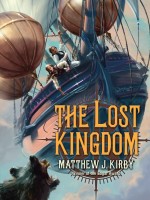 The Lost Kingdom
by Matthew J. Kirby
Billy Bartram, his father, and a secret society of philosophers and scientists venture into the American wilderness in search of the lost people of the Welsh Prince Madoc, seeking aid in the coming war against the French. Traveling in a flying airship, the members of the expedition find their lives frequently endangered in the untamed American West by terrifying creatures, a party of French soldiers hot on their trail, and the constant threat of traitors and spies. (Ages 8-12)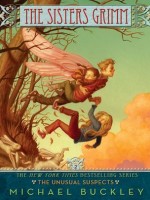 The Unusual Suspects (The Sisters Grimm #2)
by Michael Buckley
The sisters begin school at Ferryport Landing Elementary. Daphne gets Snow White for a teacher, but Sabrina is stuck with nasty Mr. Grumpner and a class of mildly psychotic sixth graders. When Mr. Grumpner is mysteriously murdered, Daphne and Sabrina must discover which Everafter is responsible. But Sabrina's distrust of all Everafters may get in the way of unraveling the case. (Ages 8-12)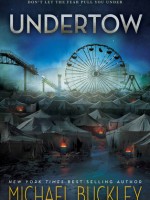 Undertow (Undertow #1)
by Michael Buckley
Sixteen-year-old Lyric Walker's life is forever changed when she witnesses the arrival of 30,000 Alpha, a five-nation race of ocean-dwelling warriors, on her beach in Coney Island. The world's initial wonder and awe over the Alpha quickly turns ugly and paranoid and violent, and Lyric's small town transforms into a military zone with humans on one side and Alpha on the other. When Lyric is recruited to help the crown prince, a boy named Fathom, assimilate, she begins to fall for him. But their love is a dangerous one, and there are forces on both sides working to keep them apart. Only, what if the Alpha are not actually the enemy? What if they are in fact humanity's best chance for survival? Because the real enemy is coming. And it's more terrifying than anything the world has ever seen. (Ages 12-18)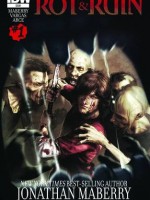 Rot & Ruin graphic novel, #1: Warrior Smart
by Jonathan Maberry
In the zombie-infested, post-apocalyptic America where Benny Imura lives, every teenager must find a job by the time they turn fifteen or get their rations cut in half. Benny doesn't want to apprentice as a zombie hunter with his boring older brother Tom, but he has no choice. He expects a tedious job whacking zoms for cash, but what he gets is a vocation that will teach him what it means to be human. (Ages 13+)
The Brooklyn Nine
by Alan Gratz
Baseball is in the Schneider family blood. Each member of this family, from family founder Felix Schneider in the 1800s to Snider Flint in the present day, has a strong tie to the game and to Brooklyn. Through the years this family has dodged bullets on a battlefield, pitched perfect games, and dealt with the devastating loss of family and the Brooklyn Dodgers. Nine innings, nine generations, one game, one family. (Ages 8-12)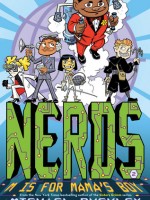 M is for Mama's Boy (NERDS #2)
by Michael Buckley
Jackson Jones, a cool kid at Nathan Hale Elementary School, suddenly finds himself ostracized when he's saddled with 14 pounds of highly magnetic orthodonture ("Friends turned their backs when he walked by. Teachers cowered in the lounge, hoping to avoid eye contact"). With no social activities to occupy his time, he starts snooping around school and uncovers its secret: it's the undercover hideout of NERDS, a secret group of underage spies. Even more shocking, the NERDS are the biggest outcasts in the entire school, their allergies and eccentricities turned into assets. (Ages 8-12)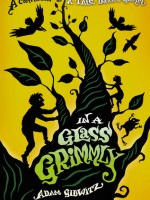 In A Glass Grimmly (A Tale of Dark & Grimm #2)
by Adam Gidwitz
If you dare, join Jack and Jill as they embark on a harrowing quest through a new set of tales from the Brothers Grimm, Hans Christian Andersen, and others. Follow along as they enter startling new landscapes that may (or may not) be scary, bloody, terrifying, and altogether true. (Ages 10-14)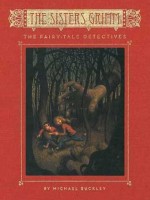 The Fairy-Tale Detectives (The Sisters Grimm #1)
by Michael Buckley
At almost twelve, Sabrina is a savvy survivor. From the day her parents disappeared, she and her younger sister Daphne have been shuffled from one horrible foster home to another. When the book opens, she and Daphne have been sent to Ferryport Landing to a woman who claims to be their grandmother. Unfortunately, Granny Relda is a genuine nut case. However, Sabrina's doubts are dispelled when she sees the giant for herself and meets a host of fairy tale creatures, from Prince Charming to the Big Bad Wolf. When Granny is captured by the giant, Sabrina and Daphne must discover who has let the giant loose and rescue their grandmother. Then Sabrina learns that the Everafters (as the fairytale creatures prefer to be called) can't leave Ferryport Landing until she and her sister are dead! (Ages 8-12)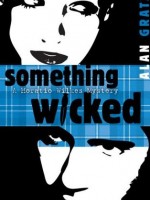 Something Wicked (Horatio Wilkes Mysteries #2)
by Alan Gratz
Horatio Wilkes has come to the Scottish Highland Festival with his childhood friend Mac for games, girls, and gallivanting. But before the Celtic festivities can get under way, Mac's grandfather and founder of the games, Duncan MacRae, is brutally murdered. All signs point to Duncan's son, Malcolm, as the killer, but Horatio has his doubts. Between Mac, his controlling girlfriend Beth, and their parents, it seems like everyone has something to hide. Set against the vivid backdrop of the Tennessee Mountains, Something Wicked is a thrilling adventure with all the sinister twists, turns, and tragedies of Shakespeare's Macbeth. (Ages 14+)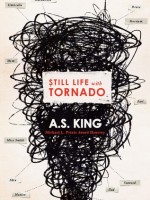 Still Life with Tornado
by A.S. King
Sixteen-year-old Sarah can't draw. This is a problem, because as long as she can remember, she has "done the art." She thinks she's having an existential crisis. And she might be right; she does keep running into past and future versions of herself as she wanders the urban ruins of Philadelphia. Or maybe she's finally waking up to the tornado that is her family. After decades of staying together "for the kids," and building a family on a foundation of lies and domestic violence, her parents have called it quits. Now Sarah must come to terms with years spend sleepwalking in the ruins of their toxic marriage. (Ages 14+)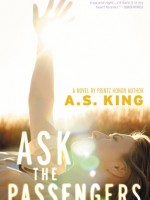 Ask the Passengers
by A.S. King
Astrid Jones desperately wants to confide in someone, but her mother's pushiness and her father's lack of interest tell her they're the last people she can trust. Instead, Astrid spends hours lying on the backyard picnic table watching airplanes fly overhead. She doesn't know the passengers inside, but they're the only people who won't judge her when she asks them her most personal questions...like what it means that she's falling in love with a girl. (Ages 15+)
All of Us Monsters (V Wars, #2)
by Jonathan Maberry
Big Dog and V-8 are the top gunslingers in the escalating battle with vampire terrorists. But the hunt for a new and intensely brutal species of bloodsucker puts them in the crosshairs of the world's most dangerous special operative: Joe Ledger. And, the members of V-8 are tasked to hunt down and obtain plans for a stolen vampire gene screener. (Ages 16+)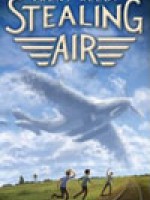 Stealing Air
by Trent Reedy
When his dad announced they were moving to Iowa, Brian looked forward to making some new friends. But on his first day there he makes an enemy instead -- Frankie Heller, the meanest kid in town. Brian needs to hang out with someone cool to get back on track. Alex has always been the coolest guy around, and good with money, just like his dad. But now the family is struggling, and he needs to make some cash to keep up appearances. Then an opportunity falls in his lap. Max is a scientific genius, but his parents are always busy with their own work. Building an actual plane should get their attention -- if only he wasn't scared of heights. The answer to all three boys' problems starts with Max's secret flyer. But Frankie and the laws of popularity and physics stand in their way. Can they work together in time to get their plan AND their plane off the ground? (Ages 10-12)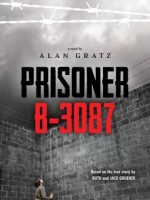 Prisoner B-3087
by Alan Gratz
As a Jewish boy in 1930s Poland, Yanek is at the mercy of the Nazis who have taken over. Everything he has, and everyone he loves, have been snatched brutally from him. And then Yanek himself is taken prisoner -- his arm tattooed with the words PRISONER B-3087. He is forced from one nightmarish concentration camp to another, as World War II rages all around him. He encounters evil he could have never imagined, but also sees surprising glimpses of hope amid the horror. He just barely escapes death, only to confront it again seconds later. Can Yanek make it through the terror without losing his hope, his will -- and, most of all, his sense of who he really is inside? (Ages 11-16)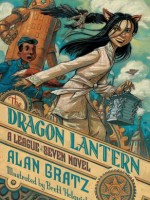 The Dragon Lantern (The League of Seven #2)
by Alan Gratz
Archie Dent is convinced that he and his friends Hachi and Fergus are the first three members of a new League of Seven: a group of heroes who come together to fight the Mangleborn whenever the monsters arise to destroy humanity. His belief is put to the test when they are forced to undertake separate missions. Archie and his faithful Tik-Tok servant Mr. Rivets pursue a shapeshifting girl who has stolen the Dragon Lantern, an ancient artifact with mysterious powers. And Hachi and Fergus travel to New Orleans to find Madame Blavatsky, the only person who knows the circumstances surrounding the death of Hachi's father. (Ages 10-14)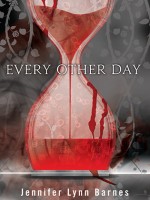 Every Other Day
by Jennifer Lynn Barnes
Every other day, Kali D'Angelo is a normal sixteen-year-old girl. She goes to public high school. She attends pep rallies. She's human. And then every day in between...She's something else entirely. Though she still looks like herself, every twenty-four hours predatory instincts take over and Kali becomes a feared demon-hunter with the undeniable urge to hunt, trap, and kill zombies, hellhounds, and other supernatural creatures. Kali has no idea why she is the way she is, but she gives in to instinct anyway. Even though the government considers it environmental terrorism. Then Kali notices a mark on the lower back of a popular girl at school, she knows instantly that the girl is marked for death by one of these creatures. Kali has twenty-four hours to save her and, unfortunately, she'll have to do it as a human. (Ages 12+)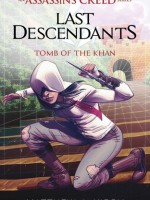 Tomb of Khan (Assasin's Creed: Last Descendants, #2)
by Matthew J. Kirby
There's still two pieces of the Trident of Eden left to find and Owen and Javier are determined not to repeat their past mistakes. The next piece is rumored to be buried with the Mongol warlord Mongke Khan, whose tomb has never been found. Teens on both sides of the conflict will have to go into simulations in war-torn Mongolian China in a race against time and their enemies to find the next piece. (Age 12+)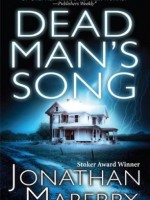 Dead Man's Song (Pine Deep trilogy, #2)
by Jonathan Maberry
Once an idyllic Pennsylvania village, Pine Deep awoke one morning to find itself bathed in a massive bloodletting. Twice in thirty years the townsfolk have endured the savage hungers of a murderous madman. But if the residents think the death of serial killer Karl Ruger put an end to the carnage, they're dead wrong. (Ages 16+)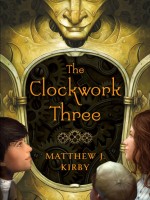 by Matthew J. Kirby
Giuseppe, an orphaned street musician from Italy, was sold by his uncle to work as a slave for an evil padrone in the U.S. When a mysterious green violin enters his life he begins to imagine a life of freedom. Hannah is a soft-hearted, strong-willed girl from the tenements, who supports her family as a hotel maid. Then tragedy strikes and her father can no longer work. She learns about a hidden treasure, which she knows will save her family -- if only she can find it. And Frederick, the talented and intense clockmaker's apprentice, seeks to learn the truth about his mother while trying to forget the nightmares of the orphanage he grew up in. He is determined to build an automaton and enter the clock makers' guild, but he needs create a working head. Together, the three discover they have phenomenal power when they team up as friends, and they can overcome even the darkest of fears. (Ages 8-12)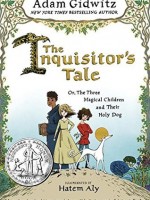 The Inquisitor's Tale
Or, The three Magical Children and Their Holy Dog
by Adam Gidwitz
On a dark night, travelers from across France cross paths at an inn and begin to tell stories of three children. As the narrator collects their tales, the store of these three unlikely allies begins to come together. Their adventure takes them on a chase through France to escape prejudice and persecution and save precious and holy texts from being burned. They're taken captive by knights, sit alongside a king, and save the land from a farting dragon. As their quest drives them forward to a final showdown, all will come to question if these children can perform the miracles of saints. (Ages 10-14)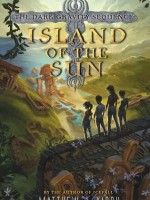 Island of the Sun (Dark Gravity, #2)
by Matthew J. Kirby
Eleanor and her friends have shut down the mysterious Concentrator in the Arctic, but their mission is far from over. The earth is still spinning out of its orbit and growing colder by the day. Their only chance is to find the other Concentrators embedded around the world and deactivate them before it's too late. (Ages 8-12)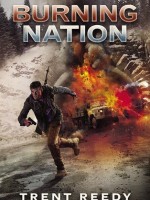 Burning Nation (Divided We Fall, #2)
by Trent Reedy
At the end of Divided We Fall, Danny Wright's beloved Idaho had been invaded by the federal government, their electricity shut off, their rights suspended. Danny goes into hiding with his friends in order to remain free. But after the state declares itself a Republic, Idaho rises to fight in a second American Civil War, and Danny is right in the center of the action, running guerrilla missions with his fellow soldiers to break the Federal occupation. Yet what at first seems like a straightforward battle against governmental repression quickly grows more complicated, as more states secede, more people die, and Danny discovers the true nature of some of his new allies. (Ages 13+)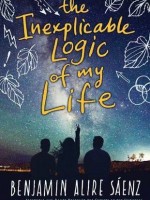 The Inexplicable Logic of My Life
by Benjamin Alire Sáenz
Sal used to know his place with his adoptive gay father, their loving Mexican American family, and his best friend, Samantha. But it's senior year, and suddenly Sal is throwing punches, questioning everything, and realizing he no longer knows himself. If Sal's not who he thought he was, who is he? This humor-infused, warmly humane look at universal questions of belonging is a triumph. (Ages 14+)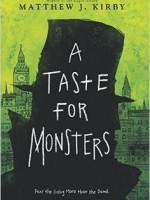 A Taste for Monsters
by Matthew J. Kirby
It's 1888 and Jack the Ripper is terrorizing the people of London. Evelyn, a young woman disfigured by her dangerous work in a matchstick factory, has nowhere to go and does not know what to make of her new position as a maid to the Elephant Man in London Hospital. She wanted to be locked away from the world, like he is, shut away from the filth and dangers of the streets. But in him, she finds a gentle kindred, who does not recoil from her, and who understands her pain. However, when the murders begin, Joseph and Evelyn are haunted nightly by the ghosts of the victims, setting Evelyn on a path to facing her fears and uncovering humanity's worst nightmares, in which the real monsters are men. (Ages 12+)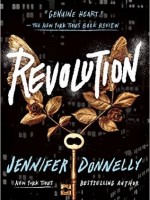 Revolution
by Jennifer Donnelly
Andi is angry. Angry at her father for leaving, angry at her mother for not coping, angry at losing her brother. Her father thinks a trip to Paris is just what Andi needs. But finds the diary of Alexandrine, who lived during the French Revolution, and ghosts begin to walk off the pages. On a midnight journey through the catacombs, words transcends paper and time, and the past becomes terrifyingly true. (Ages 12+)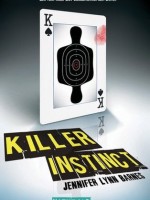 Killer Instinct (The Naturals #2)
by Jennifer Lynn Barnes
After barely escaping a confrontation with an unbalanced killer, Cassie hopes she and the rest of the team can stick to solving cold cases from a distance. But when victims of a brutal new serial killer start turning up, the Naturals are pulled into an active case that strikes too close to home: the killer is a perfect copycat of Dean's incarcerated father-a man he'd do anything to forget. (Ages 12+)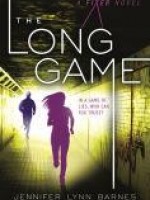 The Long Game (The Fixer #2)
by Jennifer Lynn Barnes
For Tess Kendrick, fixing runs in the family. But Tess has another legacy too, one that involves power and the making of political dynasties. When Tess is asked to run a classmate's campaign for student council, she agrees. But when the candidates are children of politicians, even a high school election can involve life-shattering secrets. Meanwhile, Ivy also has an impossible case, as a terrorist attack calls into doubt who can and cannot be trusted on Capitol Hill. Tess knows better than most that power is currency in Washington, but she's about to discover first-hand that power always comes with a price. (Ages 13+)
.